Andalucia seeks 1 billion euro lifeline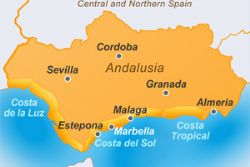 Andalucia requested a €1 billion state loan on Monday to pay its bills, becoming the 4th Spanish region to seek emergency funding from a central government that is weighing up applying for a rescue package of its own.
The government of Spain's most populous region, which accounts for around 15% of the country's GDP, said the emergency funds would tide it over while it considers a formal request for help from a state liquidity line.
Valencia, Catalonia and Murcia have already requested aid from the €18 billion credit line, set up in July to help the regions meet debt payments this year.
Andalucia said the advance payment would be discounted from routine transfers the central government makes to the regions.
North-eastern Catalonia, which generates a 5th of Spain's economy, said on Monday it might also need emergency funding this month should the liquidity line not be up and running shortly.
Spain's 17 autonomous regions, which along with city halls control around 50% of public spending, almost all overshot their deficit targets last year and economists say they could fail to meet their budget cutting obligations this year.
That makes them a key concern for investors as the country mulls a European bailout on top of a rescue package worth up to €100 billion for its banks.
The regions have been unable to raise money on bond markets, with many having seen their credit rating downgraded to junk status.
The government expects to unveil details of how the liquidity fund will operate in the coming weeks, Economy Minister Luis de Guindos said on Friday.
Catalonia said last Tuesday it would tap the €18 billion fund for just over €5 billion. Valencia said on Thursday it may increase to more than €4.5 billion from €3.5 billion the aid it would request from the fund.