Spain August car sales rise before September VAT hike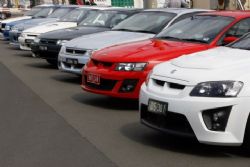 Spanish car sales rose in August for the first time in seven months, as customers brought forward purchases before a hike in value added-tax on Sept. 1, car manufacturers' association ANFAC said on Monday.
Car sales rose by 3.4% in August on an annual basis, with a total of 48,820 cars sold. That was the first rise since January and came before a rise in VAT by three percentage points to 21% on Sept. 1.
ANFAC said that 10,000 private customers brought forward purchases of cars before the tax rise. Yet the overall trend was down, with a drop of 8.5% in sales in the first 8 months of the year, and worse expected to come.
"The last part of the year, especially September and October are going to be a disaster. We are going to see a sharp fall unless sellers hold the sector up by making aggressive offers," said a spokesman for car distributors' association Faconauto.
ANFAC reported that a total of 520,216 cars were sold in the first eight months of the year, and forecast no more than 700,000 would be sold in the whole year.