Catalonia Calls Early Elections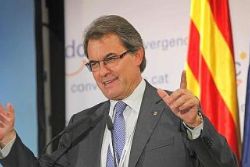 Following mass demonstrations of Support for an independent Catalonia, Catalan President Artur Mas has officially announced a regional election.
As part of his CiU party manifesto, the goal of becoming an independent European state will be centre piece to his re-election campaign.
The Catalan region has long desired independence from Spain, more so since the death of Spanish dictator Francisco Franco in 1975.
Their claim for independence has largely been ignored by the rest of the country, mainly because they benefitted during the good times and now things are not so good wish to split away from Spain instead of standing together.
Whilst independence for the region does offer some benefits on paper, the most indebted region in Spain, by approximately €35 billion, would still have the same problems, if not worse being isolated from the major economy of Spain.
Catalan support has been rallied through the use of questionable propaganda surrounding the crisis, blaming Madrid for not allowing them to solve their own financial problems and receiving far less central government funding compared to other regions given the level of contribution to national treasury coffers they make.
However, their argument is flawed given they have been closed out of international financial markets and managed to accrue massive debts which would have occurred anyway had they already been independent.