Balearics and Asturias ask for Gov't aid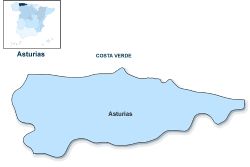 The Balearic Islands and Asturias became the latest regions to ask the central government for aid on Friday, raising concerns Spain may have to expand a €18 billion fund set up to help pay regional debts.
Spain's autonomous communities are struggling to cover their borrowing costs and their large debts are dragging on the country's ability to rein in its deficit as it heads towards a European bailout.
The Balearic Islands asked for €355 million of aid, while Asturias asked for €262 million, the local governments said, pushing the total number of regions that have asked for aid up to 8.
The autonomous communities have been forced to apply to central government for help in repaying debt and financing their deficits because investor concern over the state of Spain's finances has virtually shut them out of bond markets.
"It's crystal clear that the regions, apart from the fact that they also have to reduce their own budget deficits, have big difficulties in refinancing their debt," said economist Martin van Vliet at ING.
The €18 billion fund is comprised of an €8 billion loan from banks, mostly brought by Spain's top 3 lenders : €6 billion from lottery funding; and the remaining €4 billion comes directly from state coffers.
The 2 requests mean that just over €17 billion of the fund has now been tapped, leaving it with scarce resources to cover other regions' funding needs and raising the possibility the government will have to put in more money.
"It's looking increasingly likely that the central government has to provide more money and that has ramifications for their own financing," said ING's van Vliet.
Deputy PM Soraya Saenz de Santamaria declined to say at the government's weekly press conference whether Spain would increase the size of the fund.
"We will study in coming years if it's necessary to continue with the fund or not depending on the evolution of the markets and the financial sector," she said.
The Balearic Islands and Asturias join the Canary Islands, Catalonia, Valencia, Murcia, Andalusia and Castilla La Mancha in asking for help from the central government's fund.
There are 17 autonomous communities, ranging in size from Catalonia which houses Spain's second-biggest city Barcelona and has an economic output similar to Portugal's to small wine-producing region La Rioja.