Bankia announce 5'000 job losses likely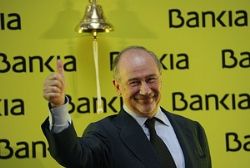 Bankia , Spain's fourth-largest bank, is close to announcing the redundancies of around one-quarter of its workforce, or around 5,000 employees, according to El Mundo in its Wednesday Internet edition.
The layoffs will be part of a plan to make the lender more competitive, the newspaper adds.
Earlier this month the Bank, which had to be rescued by the Bank of Spain barely 12 months after it's creation in 2011, announced that it would be trasferring €45 Billion of their assets to the newly-created Bad Bank, SAREB.
Bankia reported that they were in debt by €7.053 billion euros after the first nine months of the year and posted a loss in the third quarter alone of €2.605 billion as a result of provisions to cover losses from toxic property assets.
In October the Bank of Spain ordered 72 of the Bank's senior managers and Executives to repay the €5 Million they had been paid (collectively) in bonuses.