ECB "Ready to help Spain at any time"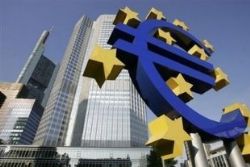 The Vice President of the ECB said today how the Bank is ready to act to lower Spain's borrowing costs if the Spanish Government eventually opts to tap the European Stability Mechanism (ESM).
The ECB has made seeking assistance from the ESM a prior requirement to it buying the sovereign debt of euro-zone members in the secondary market through its Outright Monetary Transactions (OMT) program.
Asked by reporters in Berlin whether he believes Spain will seek to have the ECB activate OMTs, the VP commented : "That's still our expectation and we are operationally ready for that," although he insisted it was up to Spain to decide whether or not to go to the ESM.
The Partido Popular has taken advantage of more favorable market conditions to put off making a decision on whether to seek a bailout from the ESM. The spread between the yield on the Spanish benchmark 10-year government bond and the German equivalent was at just over 420 basis points in late trading on Monday, down from a euro-era record high of 650 in July before ECB President Mario Draghi said the bank was willing to do everything within its powers to safeguard the euro.
Rajoy has said he will make a decision on whether to seek help from the ESM based on the "best interests" of the Spanish people. Asked about the possibility of a bailout, Economy Minister Luis de Guindos said: "Spain's position on this issue hasn't changed at all."