Hospital workers strike in Spanish capital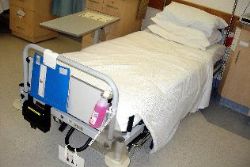 Many employees of the Spanish Healthcare system today began a 2 day strike in the capital against the government's plansto privatise a number of Hospitals and services as part of an auseterity drive to tackle the worsening financial crisis.
Only a few of Madrid's hospital services were operating at full capacit today as as crowds of doctors in white coats held demonstrations outside a number of hospitals to express their anger with plans to privatize public health services.
Some of the banners read "Public healthcare is not for sale, it is for defending."
One of the striking healthcare professionals, Cristina Diez, told the press "The central government is already cutting spending. If in addition to that they privatize, it is to try and make healthcare profitable. We are against that." She continued to say how "They are using the crisis as an excuse to do what they have been planning to do for a long time."
The protesters also signed petitions against the regional government's 2013 budget plan, which will save more money by outsourcing and reshuffling services. Healthcare workers think the budget plan hurts the healthcare system.
"We want to demonstrate until the Madrid government stops its plan," Diez said.
The economy of Spain plunged into recession during Q2 of 2008, and has to date left over 400,000 families homeless.
More recently, protests have also been held against the Spanish government's austerity measures and labor reforms, which are hitting the middle and working classes the hardest.