One-year anniversary of first Rajoy cabinet meeting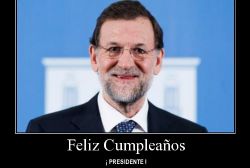 Today - December 21st - marks the one year anniversary of Mariano Rajoy holding his first cabinet meeting as the new Prime Minister of Spain.
Tumbit's news story at the time reported how Rajoy announced that his first meeting had been called specifically to discuss "Pension rises, the fixing of a ceiling on public spending and a freeze on employing more public employees in all areas except the armed forces".
However, barely one year after taking office, the Prime Minister angered the country's 5 Million old age pensioners by going back on his 2011 election pledge and refusing to increase pension payments for 2013.
Traditionally, Pensions are increased every year based on a snapshot of the rate of inflation as it stood at the end of November. The rate stood at 2.9%, however form January pensions will be reviewed by 1% but pensioners who receive less than €1,000 a month will get a review of 2%.
By refusing to honour his 2011 election pledge, and observe the increase traditionally applied by previous governments, a saving of €3.8 billion will be made, which will help to keep the country's EU-agreed deficit target within reach.