Bankia Chief in court over fraud charges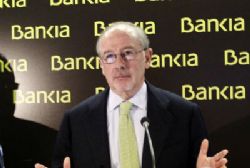 The former Chairman of Bankia, 63 year old Rodrigo Rato, was questioned by the National Court yesterday over allegations of fraud.
Rato's previous posts included being Minister for the Econonmy and Director of the IMF, however he was unable to gain the trust of the Banking Authorities after formulating a viability plan for the Bank, as requested by the central government.
Rato was appointed as Chairman of the Bank, which was created following the merger of 7 regional lenders in January 2010. The merger, which arose after EU Bank stress-test found weaknesses in the lenders induvidually, resulted in the creation of what was to be spain's 4th largest Bank.
His appointment lasted until May 2012, when huge financial losses at the Bank forced his resignation. Although they reported a profit of €309 million at the end of 2011, barely 6 months later it was reported that they had actually made a loss of some €3 billion.
In addition to the €4.5 billion paid to keep the Bank afloat earlier in the year, Bankia is to recieve a further 50% of the €40 billion in aid destined for Spanish Banks.
The National Court launched an investigation into Bankia case after the Union, Progress and Democracy (UPyD) Party accused the Bank's former executives of fraud and account falsification, after claims by many clients that they were not made aware of the full extend of risks that there investments were exposed to.