Spain sees mortgages fall for 30th consecutive month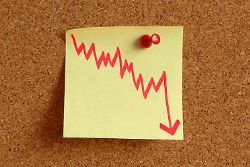 The number of resdential mortgages awarded in Spain decreased 14.4% during October 2012, compared to the same period last year.
The report, issued yesterday by Spain's National Institute of Statistics (INE) yesterday noted how 19'105 mortgages for private properties had been awarded during that period, representing a 30th consecutive month of falling figures.
Figures are now at their lowest since May 2003.
Month on month, the number of mortgages awarded fell 9.9% between September and October 2012.
Furthermore, between January and October 2012 the number of residential mortgages fell 33.2% compared to the same period in 2011. The total value of all mortgages awarded fell by 38.8% and average value of induvidual mortgages decreased by 8.4%.
The average mortgages loan in October reached Ä100,665 - 4.9% down on the same month of 2011. From September, on a monthly basis, there was a 1.7% decrease.
The INE also reported that in October 31,405 mortgages for rustic and urban buildings had been registered, representing a 19.8% decrease in comparison with the same month of 2011.
Demand for Spanish property has fallento such lows due to high levels of unemployment, low salaries and an increase in sales tax for new properties from 4 to 10% which comes into effect next week.