PP split over fee on medications to cut deficit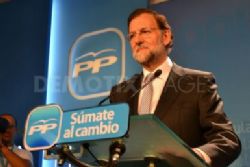 Leaders of the PP split publicly on Friday over a controversial surcharge for prescription medicines, highlighting the difficulties in bringing a high public deficit under control.
PM Mariano Rajoy has been fighting to keep public finances afloat as high borrowing costs threaten to push recession-plagued Spain into the fifth debt bailout in the euro zone debt crisis.
Under huge pressure from the central government and investors to cut their deficits but with limited authority to raise taxes, the populous regions of Madrid and Catalonia each adopted measures to charge one euro for every prescription medication purchase.
Despite its preoccupation with deficit-trimming, Rajoy's government is challenging the prescription fee in the courts, saying it unfair because it does not affect all Spaniards and amounts to an illegal tax.
"The measure affects the equality of citizens and is a tax on a service," Deputy PM Soraya Saenz de Santamaria told a news conference on Friday, announcing that the central government would file suit against the measure in Madrid, following on its earlier court challenge to the Catalonia fee.
Deep economic and fiscal problems have caused some regions, especially separatist-minded and opposition-ruled Catalonia, to chafe at the centralised Spanish tax model, which many Catalans say has worsened their woes.
But the euro-per-prescription flap has also caused an uncharacteristic split between PP leaders, who usually show a united public face.
Madrid leader Ignacio Gonzalez, from Rajoy's PP, on Friday defended the measure in his region.
"We are acting within our jurisdiction and it's a measure that will help rationalise spending on medications," Gonzalez said in an interview on 24 Horas news television.
The region, home to the capital Madrid, hopes the measure will provide €80 million in budget savings this year out of a goal of €2.7 billion.
The idea is not to raise funds through the fee, but rather to discourage purchases of largely subsidised medications, 27% of which are not even used, Gonzalez said.
His government also plans to partially privatise some public health clinics and cut other spending on health services in the region, whose population is 6.5 million.
Doctors, nurses and health workers have held strikes, marches and other protests for months over the spending cuts.
Spain's public health system is administered through the budgets of the country's 17 highly devolved autonomous regions, many of which have very high deficits and are unable to finance themselves by raising debt on financial markets.
The central government has had to pour tens of billions of euros in rescue money into the regional governments to avoid them defaulting and to help them reach deficit targets.
This year the regions must cut their deficits to 0.7% of economic output, compared with a goal of 1.5% in 2012.
Spain is expected to miss its overall public deficit target of 6% agreed with the EU for 2012, though it may win more time to achieve deficit cutting goals because of the economic recession.