Gov't seeks compensation over illegal strike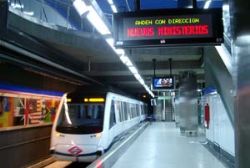 On June 29 and 30, 2010 citizens of Madrid were left without a subway service. Employees of the public company Madrid Metro elected not to provide the minimum service as laid down by the regional government and both parties incurred multi-million-euro losses.
On Thursday, the Supreme Court ruled that the strike was illegal, thus opening the door for the regional government to seek €5 million euros in compensation.
"The court has said enough of strikes where hostages are taken," said regional government spokesman Salvador Victoria after a meeting of the regional cabinet. "They also cause economic losses, which the regional government is going to pursue so that the instigators pay this amount into its accounts."
Shortly after the Supreme Court ruling, Metro Madrid announced it would seek damages from the labor unions that called the strike - the Drivers' Union, CCOO, UGT, Workers' Solidarity and the Free Union - to the tune of €4.7 million, the amount of losses ratified by the ruling.
Madrid Metro said it has one year to file its suit with the Labor Court but the CCOO union claimed the company's chance had already gone because "more than a year has passed since the action took place," according to the union's lawyer.
The ruling is the third in favor of Madrid Metro after the strike was declared illegal by the Labor Court on January 24, 2011, a decision that was upheld by the Supreme Court a year later.
"The fact that the justice system has ruled that this wildcat strike was illegal a third time is very important. We will not stand by and let citizens pay for an irresponsible strike," said Victoria.