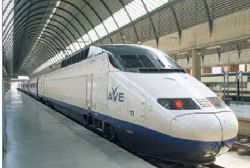 The railways in Spain are a public body responsible to the Ministry of Development, and officially titled 'Red Nacional de los Ferrocarriles Espanoles' - RENFE. The network currently covers some 15'000km and takes in 2'500 stations. Although most larger Towns and Cities have a service, the geography of the country often means that many smaller inland Towns in mountainous areas cannot be accessed.
Some areas, such as Catalonia, have a further network – the FFCC which runs alongside the RENFE and serves mostly short routes in urban areas.
RENFE's standard trains run quite slowly and stop at all stations on the line, however, there are a number of express options :
A number of major cities and popular routes are served by RENFE's high speed network, the Alta Velocidad Espana (AVE), which can travel at speeds of as much as 300km. Although just a handful of routes are currently in existence throughout Spain, EU funding is being negotiated to extend a number of routes across mainland Spain.
These routes include the Mediterranean corridor, which will eventually connect Algeciras (Cadiz), along the Coastline, through Barcelona and across the border to France. Similar routes will connect Catalonia and Galica in the North of the Country, with a central route running from Madrid to Extremadura, and eventually on to Lisbon in Portugal.
The introduction of these routes has long been a concern of the national airports authority (AENA) - who also report to the Ministry of Development - as cheap, quick and efficient connections between many mainland cities are now able to compete with most domestic airline routes.
The AVE network offers trains with 3 classes of travel : First class (or 'club'), Business and Tourist, and offer facilities ranging from a restaurant and cafeteria, TV's, reclining seats and air conditioning. Sleeper cabins are also available on some routes.
A Further long distance network operated by RENFE is the 'Tren Articulado Ligero Goicoechea Oriol 200' (TALGO), which is similar to the AVE, but a little slower and therefore has cheaper ticket prices.
The TALGO Trans European Express (TALGO-TEE) also operates international train routes to other major European Cities.
Buying Tickets
As outlined above, there are a number of different ways to travel, with different classes and accommodation types, and as such buying a ticket is never an easy task.
For shorter journeys on RENFE's standard network it is usually easier simply to purchase your ticket from the station immediately before your journey, and you can calculate your fare and plan your journey in advance on their own website - www.renfe.es
Note : Children under 4 years old travel free and those between 4 – 12 travel for half price.
For longer journeys (over 200km) and trans-european journeys it always pays to plan in advance and to be aware of the ticket options available to you. Advance bookings are accepted, however in almost all cases this cannot be done more than 3 months in advance of your journey, and can be done by clicking on the banner below :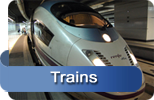 Tumbit Trains
Buying Train tickets for long-distance and trans european journeys in Spain can be a time consuming and confusing experience. Here at Tumbit we have partnered with Rail Europe, who guide you through the entire search and booking process online to ensure that you can plan your journey with peace of mind.