PP hit by fresh corruption investigation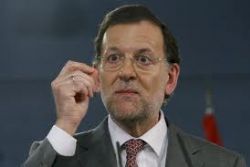 Rajoy has denied any wrongdoing by himself or the party, but the scandal has angered Spaniards at a time of massive unemployment, deep cuts in social welfare and a €40 billion rescue of the country's banks.
A Spanish judge on Thursday said he was opening a second major corruption investigation into the ruling People's Party, increasing scrutiny on party leaders including PM Mariano Rajoy.
In the new case, High Court Examining Magistrate Pablo Ruz will look into allegations a former party treasurer kept a secret record of cash donations from construction magnates that were supposedly funnelled to Rajoy and other party officials.
Ruz said in a ruling on Thursday he had found evidence that funds from an alleged kickback scheme that has been under investigation for four years may be linked to the alleged slush fund run out of party headquarters.
"The supposed connection has been proved by subjective and objective elements," he wrote in the ruling.
At the heart of both corruption investigations is Luis Barcenas, a former PP treasurer.
In his earlier, still ongoing, investigation, Ruz accused him of using his position to take bribes as part of a wider corruption ring involving party officials, evade taxes by hiding the proceeds in Switzerland and launder money through shell companies.
In the new investigation - which Ruz has now taken over from the anti-corruption prosecutor - the judge is looking into the ledgers Barcenas allegedly kept for almost 20 years, tracking cash donations and distributions that may have violated party financing and other laws.
Barcenas, who left the centre-right PP in 2009, was ordered to surrender his passport last week while Ruz investigates millions of euros he deposited in Swiss and U.S. banks.
EVIDENCE
The former party treasurer has denied any wrongdoing, saying the purported ledgers are forgeries and the money in the Swiss accounts is from legitimate business activities.
In his ruling on Thursday, Ruz said police investigators have dug up evidence that payments in the supposed ledgers published in El Pais had really taken place.
The judge has not yet brought any formal accusations in the new investigation. In Spain, examining magistrates work like prosecutors and conduct lengthy pre-trial investigations. It can often take years for a case to go to trial.
Rajoy has pledged an external audit of PP accounts and put years of his own personal tax declarations on the official website of the office of the PM.