Spain to restrict early retirement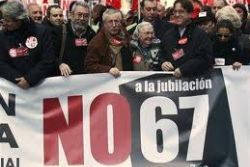 Spain will make it harder for people to take early retirement, in order to increase contributions to the social security system and make it more sustainable, Labour Minister Fatima Banez said at a news conference on Friday.
The new measures will save the social security system €4.5 billion a year when they have taken full effect in 2027, the minister said.
Companies will be penalised for letting go older workers, under the new measures. The government will also raise the minimum amount of contributions a worker must make in order to be eligible for early retirement.
"Today early retirement and partial retirement cost the system more than €9 billion a year. When these measures go into effect, we will save half of that amount every year," Banez said.
Around half of all Spaniards retire before the current legal age of 65, and the current effective age of retirement is 63, Banez said.
In 2011 the then Socialist government reformed pensions to phase in a higher retirement age of 67, by 2027, and to increase the number of years of contributions required to be eligible for a state pension.
Brussels has recommended that Spain take additional measures to reinforce its social security system, such as introducing more quickly a stability factor that would be applied to make periodic adjustments for demographic factors.
Last year Spain's social security system, which pays unemployment and retirement benefits, had a deficit of 1% of GDP.
However, something doesn't quite add up here : On Tuesday the PM announced a €3.5 Bln package of measures intended to 'Get the Young back to work' . A package of 100 measures offers various incentives for companies to employ young people, yet with 6 Million people unemployed, and with little sign of any growth in the near future, it is unclear why the Government is incentivising companies to Employ young workers, yet penalising workers who wish to retire earlier to offer their job to somebody younger.
When new jobs are simply not being created it makes no sense to spend €3.5Bln on impractical incentives.