Spain PM Rajoy Admits Mistake Amidst Corruption Scandal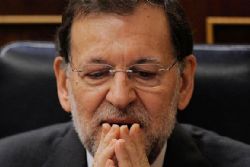 Spanish PM Mariano Rajoy has admitted making a mistake whilst addressing parliament over the deepening corruption scandal which threatens to destabilise the government.
Allegations of the PM's involvement in the corruption scandal came to light in January 2013 as investigators probed the financial affairs of disgraced former Partido Popular Treasure Luis Barcenas, the man at the centre of the corruption scandal.
However, the statement by the PM went only as far as admitting making a mistake in trusting Luis Barcenas and held short of admitting receiving cash stuffed envelops which Luis Barcenas.
Barcenas claims he was responsible for managing a 'slush fund' which big businesses made cash injections in return for lucrative public contracts. Barcenas also claims Mariano Rajoy received at least €25,000 in cash payments from the fund in 2010, just before he became Prime Minister.
Secret documents and ledgers belonging to Barcenas appear to show several major political figures also received big cash handouts as well as backing up his allegations against Rajoy.
The PM had previously refused to comment or be drawn into dialogue over the allegations, until Socialist opposition party PSOE repeatedly called for his resignation then last month threatened to call a "motion of censure" unless the PM appeared before parliament and answered questions.
"I made a mistake in maintaining confidence in someone we now know did not deserve it," the 58-year old Spanish leader told parliament.
Spain's PM had previously stated to a group of influential business figures that Spain could not afford a corruption scandal involving the government and that Spain's recovery depended on a stable government.
PP officials have already dismissed the allegations made by Barcenas as a "Smear campaign" who appears intent on bringing down the Partido Popular with him.