Gimenez Botched Ecce Homo Restoration Windfall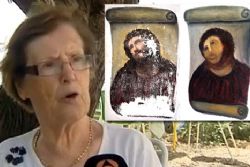 Cecilia Gimenez, the artist who shot to fame in 2012 with her botched attempt at the restoration of the priceless painting Ecce Homo is on the verge of a royalties windfall.
Council officials in the small town of Borja, Zaragoza are due to sign a royalties agreement next week with the amateur restorer in a deal which will yield her 49% of all profits from merchandising.
Town hall coffers will receive the remaining 51% of profits.
Since news of the failed restoration broke, the town has been inundated with tourists from all over the world and images of the post-restoration Ecce Homo 'Behold the Man' have appeared on t-shirts and coffee mugs as well as mobile phone covers.
Lawyers were promptly drafted in to establish copyright and draw up merchandising contracts which will see the painting appear on plates, postcards, lighters and other items.
To date, more than €50,000 has been raised for local charity Sancti Spiritus charitable foundation which has used the funds to cover bills at a local care home for the elderly. The funds were raised by charging a €1 entrance fee to see the painting.
Gimenez has even had her own art exhibit in the town where she displayed 24 of her other works which are showing until 24 August.
Retiree Gimenez who had always been quite press shy and resentful of the media attention appears to done a u-turn telling local paper Heraldo de Aragon "Now it seems like everyone's happy." Adding "I'm grateful that things have quieted down."
Town Councillor Juan Maria Ojeda said "It's a timely agreement, the money is going to good causes."