Spain's economic slump longer than thought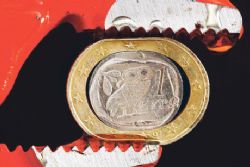 Spain's shrinking economy came close to stabilizing between April and June but its slump started 3 months earlier than previously thought, data showed on Thursday.
GDP shrank 0.1% in Q1 from a quarter earlier, the National Statistics Institute (INE) said, in line with forecasts and a preliminary reading.
Spanish exports are recovering but domestic demand has remained weak, contributing to a slowing of consumer inflation, which separate data showed hit a four-month low of 1.5% in August.
The 0.1% drop in output was the smallest since Q2 of 2011 when the economy started to contract, with a rise in exports not strong enough to offset weak domestic demand and inflation easing as the recession dragged on.
The INE revised its quarterly growth data back to the beginning of 2009. The earlier figures had pegged the beginning of the slump to Q3 of 2011.
Spain has been in and out of recession since a decade-long property bubble burst in 2008 and, with unemployment at around 27%, is expected to remain in an economic slump for at least another year.
Although better-than-expected growth figures from its European neighbors, including Germany, Britain and France, which alone account for over a third of Spain's total exports, could help it emerge from recession before the end of the year, recovery is expected to be gradual.
"Much of what we're seeing in the first and second quarters has been distorted by Easter falling in March this year after April last year. We can see that Spain is slowly on the mend, but it's going to take years and recovery will be very sluggish," said economist at Jefferies David Owen.
On an annual basis, second quarter GDP shrank 1.6% after a drop of 2% January to March, INE said, better than a Reuters forecast and preliminary reading of a 1.7% contraction.