Brit arrested over Gibraltar border Police attack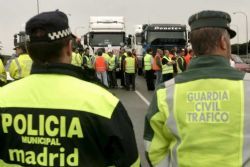 A British citizenship has been arrested by the Spanish Police after branding them as torturers following their recent treatment of motorists queuing to pass through the border with Gibraltar.
The man, named as Emilio Esteban, was also accused of urging members of the public to target individual officers in protest.
A statement was issued by the Ministry of the Interior following his arrest by the Guardia Civil in Madrid this morning. The publication noted how Esteban had uploaded information to a website where he posted photographs of individual officers.
Whilst the statement referred to Esteban as a "British Citizen", it has been surmised that he is possibly from Gibraltar.
The Spanish Minister of the Interior referred to the website that Esteban created in immediate protest over the recent conflict as "an intolerable attack on security forces and the rule of law".
Read previous news articles concerning the recent conflict over Gibraltar by clicking the link > HERE <