Castellon Airport Statue Abandoned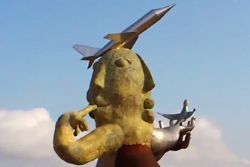 According to the Compromis opposition party in the Cortes de Valencia, Castellon Airport's commemorative statue - reportedly to be a likeness of Carlos Fabra - does not have any budget allocated to it for it's cleaning, upkeep and maintenance.
The 25 Meter high and 20 Tonne Bronze statue stands outside the terminal of Castellon Airport, and attracted criticism after it was revealed that the effigy - commissioned in June 2010 for the sum of €300,000 - had actually overrun it's budget by €127,000.
Earlier this week a publication of the Official Gazette of Les Corts, revealed that nobody is taking responsibility for the statue.
Compromis also asked Parliament why the statue had oxidised, or rusted, after being exposed to the elements, when the original specification for the piece had expressly stated that it would be sculpted from Aluminium, Copper, Bronze and stainless steel - all of which stand up to exposure well over time, and questioned the likelihood of the statue being made in cheaper cuts of Ferrous steel.
Deputy spokesman for the Compromis, Monica Oltra, noted that the resulting rust patches would eventually run in the rain and end up staining the surrounding roads, pathways and concourses red.
Although denied by both Consell and the Sculptor, Juan Ripollés, the statue is rumoured to be a likeness of Carlos Fabra, the disgraced former President of Aerocas and Vice President of the Province of Castellon.
Recommended Reading
• Castellon Airport sculpture 127'000 over budget
• Castellon Airport sculptor to sue for defamation