Catalonia Won't Defy Madrid on Independence Referendum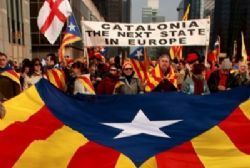 Catalan President Artur Mas said he won't defy Spain's national leader Mariano Rajoy by holding a referendum on independence for his region if the government rules it illegal. "If there is no other way to do this consultation, we'll call elections which I want to hold in 2016," Mas said in an interview with Catalunya Radio today.
Mas's retreat will strain the governing coalition in Catalonia, Spain's biggest regional economy, which was forged in December on a pledge to hold an independence referendum next year. Rajoy has told Mas such a move would be illegal.
"We have to decide our future in 2014," Mas's coalition partner Oriol Junqueras, leader of the Catalan Republican Left, said in a post on Twitter today.