EU question Spain's €151mln Telefonica fine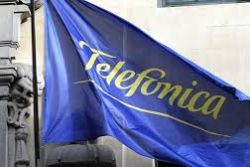 The EU's second-highest court should reassess a €151 million fine imposed on telecoms company Telefonica, an adviser to the EU's top court said on Thursday.
The European Commission fined Telefonica in 2007 for charging competitors too much for broadband access in Spain between 2001 and 2006.
Telefonica complained to the EU's General Court in Luxembourg, which upheld the fine, before a further appeal to the top court, the European Court of Justice.
Its judges typically follow the view of its adviser, the advocate general.
"The General Court has manifestly failed to conduct a full review, as it was required to do," a statement setting out Advocate General Melchior Wathelet's opinion said.
Wathelet said the fine was the 2nd highest ever imposed for a dominant market abuse after a case involving Microsoft and 10 times higher than fines on other companies for similar abuses of a dominant position in a telecoms market.
Wathelet referred to a 'manifest disproportion' between the Telefonica fine and those imposed on Wanadoo Interactive in France and Deutsche Telekom in Germany in 2003.
In 2008 Microsoft was fined €899 million, which was later reduced to €860 million.
The Telefonica case follows a 2003 complaint from Wanadoo Espana that wholesale prices the Spanish group charged did not allow it to make an attractive enough offer for the Spanish market.