Merkel tried to bounce Spain into IMF bailout : Zapatero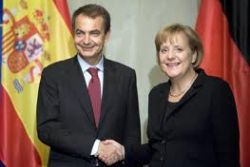 On a rainy day in November 2011 in the hulking concrete Palace of Festivals in Cannes, where film stars strut on the red-carpeted staircase in warmer months, Angela Merkel ambushed Jose Luis Rodriguez Zapatero.
With financial markets in turmoil and speculation rife that the European single currency area could break up, the German chancellor tried to bounce the then Spanish PM without notice into taking an IMF bailout, according to his account of the meeting.
It was just before the start of a Group of 20 economic summit described at the time as make-or-break for the 17-nation euro zone, and only weeks before a Spanish general election.
"She greeted me pleasantly and almost without any introduction put forward a proposal about which we had not had any indication," Zapatero writes in a book to be published on Tuesday in Spain.
"Merkel asked me if I was willing to ask for a preventive credit line of €50 Bln from the IMF, while another €85 Bln would go to Italy," he said.
"My response was also direct and clear: 'No'."
Merkel accepted his answer and leaders then exerted far greater pressure on Italy to take a bailout, hoping this would halt a spreading crisis that had erupted in Greece.
Zapatero, who stepped down before his Socialist party suffered a landslide election defeat that month, is the first European leader of the time to publish a memoir on the crisis that nearly broke the euro zone in 2010-12 and still smoulders.Extracts of the book, titled "El Dilema" (The Dilemma) in Spanish, were made available to Reuters before publication.
Zapatero depicts panic among European, U.S. and IMF leaders about how financial markets would respond when they reopened the following Monday to policy fixes cobbled together during late-night negotiations in the French Riviera resort.
There was "the feeling of a certain impotence on the part of democratic governments in relation to the markets".
Zapatero says he told Merkel that Spain was still able to finance itself on markets and had taken measures agreed with euro zone leaders to restore investors' confidence. The country, he noted, was in the middle of an election campaign.
"The short time the interpretation took seemed to go on forever," he writes. "Finally, she said in English, looking me in the eye: 'OK, I understand'."
A German government spokesman, asked by Reuters about Zapatero's account of the meeting, declined comment.
WARTIME GRIEVANCES
Merkel did not return to her demand and the leaders spent most of the summit warning Greek PM George Papandreou against a proposed referendum on international bailout conditions for Greece, as well as trying to persuade Italian PM Silvio Berlusconi to accept an IMF loan.
At a tense dinner at the climax of the Cannes summit, Zapatero recounts, European leaders traded resentments rooted in World War II in the presence of a bemused U.S. President Barack Obama, 66 years after the end of the conflict.
"At one stage of the discussion, some European leaders ended up brandishing postwar grievances," he writes. "It was just a flash of insight but for an instant it seemed that the dramatic European division of the last century was still playing out.
"It was only five minutes, but 5 minutes in which the words I was listening to had the evocative force of all the tears cried in European history."
He stops short of saying who said what to whom, but at the peak of the crisis, some European politicians argued that Germany had a special responsibility to hold Europe together due to its Nazi past.
All 4 euro zone countries that have taken full state bailouts - Greece, Ireland, Portugal and Cyprus - have suffered dramatic economic downturns under terms set by the EU and IMF, as well as the political stigma of losing sovereignty.
Spain eventually had to request EU aid 6 months later specifically to restructure its shattered banks. But having sidestepped the pressure in Cannes, Zapatero says he kept his head down for the rest of the summit, trying not to be noticed.
Zapatero, who presided over the end of Spain's credit-fuelled boom, winning elections in 2004 and 2008, has been accused of long being in denial about his country's financial problems and loss of competitiveness.
A real estate bubble burst in 2008, causing mass unemployment and a spate of savings bank failures.
In his memoir, Zapatero says EU economists were over-pessimistic about Spain and says he was able to avert "the greater evil" of a state bailout, but he acknowledges a tardy response to the crisis and admits some failures.
Describing the concerted pressure on Italy to take a bailout in Cannes and the Italians' dogged resistance, he quotes then Finance Minister Giulio Tremonti as saying at the summit: "I can think of better ways to commit suicide."
Zapatero compares Italy's tactics with the "catenaccio" style of dour defensive play that was once the hallmark of the country's soccer team.
A compromise was crafted under which Berlusconi accepted IMF supervision of Rome's long-promised reforms but no bailout.
Zapatero notes that in the corridors of the Cannes festival palace - "a fortress besieged by the markets" - delegates were already whispering the name of Mario Monti, the technocrat who succeeded Berlusconi later that month after the billionaire prime minister lost the confidence of parliament.