UK's Poundland plans £750 mln floatation and expansion in Spain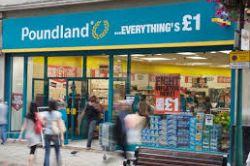 Poundland, Europe's largest single-price discount retailer, plans a £750 Mln flotation on the London Stock Exchange, cashing in on the recession-proof allure of goods that sell for just £1.
The 500-store Poundland chain, which sells more than 3,000 products, including about 1,000 branded goods from firms such as Cadbury, Heinz, Coca Cola and Kodak, said on Tuesday it would list its shares in March.
British discount retailers bought up properties left vacant in the economic downturn by failed store groups such as Woolworths and have outperformed the market as consumers tightened their belts in the face of flat wages and rising inflation.
Though the UK economy is slowly improving, the habit of thrift has stuck, and Poundland says nearly 25%of its 4.5 million weekly customers now come from the more affluent "AB" demographic.
"We're very good in austere times, but we're even better in good times," said Poundland Chief Executive Jim McCarthy, highlighting a track record of profit growth and aggressive store opening plans for both the UK and overseas.
According to consultancy PwC, the UK value general merchandise retail sector was worth £5.2 bln in 2012.
Poundland, the first British discount retailer to seek a public listing, was founded in 1990 at Burton-upon-Trent, central England, by Dave Dodd and Stephen Smith. Private equity firm Advent International bought the firm for £50 Mln in 2002 and sold it on to Warburg Pincus for £200 Mln in 2010.
Poundland's share offer will comprise a partial sale to institutional investors of Warburg Pincus's 76% stake, as well as a partial sale of the balance held by 155 Poundland employees, including McCarthy, a former Sainsbury's executive and 30-year veteran of the UK retail sector.
The free float will be at least 25% of Poundland's equity.
The firm, which will not be issuing any new shares to investors in the offer, would seek a valuation of 700-750 million pounds, a person familiar with the matter told Reuters.
LISTING PIPELINE
The listing of Poundland is one of many expected in Britain's retail sector in 2014. Russian hypermarket chain Lenta, newsagent and convenience store McColl's and online domestic appliances retailer AO have all said in recent weeks that they plan to float.
While the UK is short of quoted plays on discounters, in the USA there is a well-established discount sector on the stockmarket, with Dollar Tree, Family Dollar and Dollar General all huge chains, nibbling away at the market share of Wal-Mart and the drugstores.
Independent retail analyst Nick Bubb said it remained to be seen how investors would differentiate between all the various UK discount players as and when they go public.
"Given the weak profits at the fast-growing 99p Stores and Poundworld, Poundland is obviously the best of the 'pound shops', but Poundland is not as big as chains like Home Bargains and B&M, whose incursion into markets such as homewares and toiletries has even put pressure on the sales of the likes of B&Q and Superdrug," he said.
Poundland's revenue base - up 15% to £880 Mln in the 2012-13 year - means it can negotiate deals direct with suppliers, who often reformulate sizes to accommodate the firm's single price point.
Critics argue Poundland products can be more expensive than similar products in supermarkets if compared on a weight basis. Rising inflation can also challenge the business model.
Poundland made underlying earnings before interest, tax, depreciation and amortisation (EBITDA) of £45.4 Mln in the 2012-13 year, up from £39.3 Mln in the previous year, and last month it posted record Christmas sales.
The firm is targeting a doubling of its UK stores to more than 1,000 as well as further international expansion after a profitable first full year of trading at its multi-price format Dealz business in Ireland, with Spain next on the list.