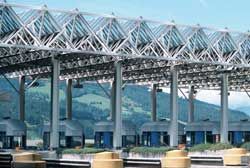 Driving on Spanish motorways can be surprisingly straightforward – they are nowhere near as congested as their counterparts in the UK, and this alone can often take the sting out of having to pay for the privilege of using them.
Additionally the Service stations seem to be a little confused. Has nobody told them that they are supposed to be smelly and dirty places where the food and drink (not to mention petrol) are dramatically overpriced and of questionable value? It seems not – instead the prices seem to differ very little from in regular Café's and Bar's and the fayre offered is actually served warm, resembles food, and is edible.
Once foreign drivers using Spanish motorways can get over the obstacle of having to pay to use them they will find many that they have many advantages : Better quality and cheaper service stations; less congestion; FREE access to motorways around major Towns and Cities; High speed limits compared to the N roads etc…
But what are some of the disadvantages that a driver from the UK may notice – and may need to be aware of ?
An obvious one maybe, but the Toll booths themselves are situated to the LEFT of the car, which can cause problems for a lone traveler in a RHD vehicle, particularly if they are scrabbling around for change.
Another is the fact that at night there are no road lights, which can often take some getting used to.
Road signs (or rather lack of them) together with the total lack of planning when it comes to constructing junctions is often an issue – quite often you can see exit signs placed after the junction as opposed to before !
The cost of a journey can also be an issue if you are travelling a long way – for example a trip from Valencia to Barcelona ( approx 400 kms ) can cost around 40Euros, payable at 5 Booths and to 3 different Motorway Agencies.
So how can you make this easier on yourself ?
The Company which oversees the various motorway agencies in Spain offer an electronic device called the Bi-Model - also known as the VIA T – the major difference being that the former can also be used in France.
The Via-T device is fitted in the windscreen of vehicles, but the Bi-Model device is fastened to the registration plate. Users of these schemes have the benefit of being able to use a special lane, which means that the vehicle does not need to come to a complete stop – just slow to slow to 30km at the tolls (usually to the far left and clearly marked "Via-T").
Discounts of between 5% and 50% can also be applied - depending on the stretch of motorway you use, the number of journeys that you take per month and distance of Journey covered – it all adds up !
A credit period of 6 to 8 weeks is also given to users of the Bi-Model / Via-T device, which is usually better than frantic searching for loose change or a debit card – often at a time when you just want head off and complete your journey.
Both of the Via-T and Bi-Model units are rented from the motorway company, and when ordering them you must state the license plate numbers and number of axles present on each of the vehicles that are to use the units. The order must be accompanied by a copy of the vehicle's product description and the registration certificate.
There are more than 20 individual motorway agencies in Spain, each with its own network across the region, and it wise to check the website of the agency whose network(s) you will be using the most to see which agencies they have reciprocal agreements with, and how you should go about ordering one. In almost every case the devise is ordered and paid for at the local branch of a national bank and the monthly fees are deducted from your account by direct debit.
Those who speak a passable amount of Spanish can also buy/rent a Via-T device online by clicking the link >>HERE<< .