Spanish Courts Dismiss Case Against 007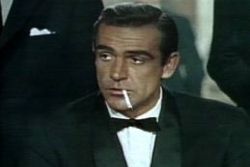 A Spanish court dismissed the case against actor Sean Connery in connection with shady real estate transactions in the resort city of Marbella.
In the verdict, which consists of 45 pages to which Efe had access, the court decided to continue the investigation involving the actor's wife, Micheline Anne Jeanne Connery.
The case centers on the re-zoning of Connery's beachfront property in Marbella to allow the construction of 72 luxury apartments.
Connery "never appears in the case taking any decisions, nor does his signature appear on any document that could incriminate him," the investigating magistrate said in his ruling quashing the charges.
The criminal probe "made the mistake of calling this the Goldfinger case (a reference to the 1964 film featuring Connery as James Bond), which could give public opinion the idea that the case was exclusively about the actor, when nothing could be further from the truth as we have been able to verify," the judge wrote.
The magistrate's decision came after studying the sworn statement sent by the Connerys from their home in the Bahamas, in which the actor denies his implication in the case.
The wider prosecution began in 2007 and has led to the convictions of former Marbella Mayor Julian Muñoz and his ex-girlfriend, popular singer Isabel Pantoja.
Connery's wife remains under investigation.
Known as the preferred Costa del Sol enclave for aristocrats, Arab princes, actors and singers - Antonio Banderas, Bruce Willis and Julio Iglesias are among its denizens - Marbella has also been a locus of real estate speculation over the past 15 years.
Read previous news on the Sean Connery "Goldfinger" case by clicking the link HERE