Spain makes small profit on first Bankia stake sale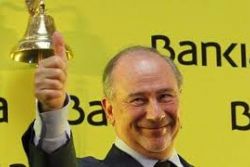 Spain is making a €301 Mln profit on the sale of a 7.5% stake in Bankia, the lender's parent company BFA said, as the government started to return the country's biggest bailed-out bank to private ownership.
The shares were sold at €1.51 each on Friday, a discount of around 4% to their closing price on Thursday but 12% higher than the €1.35 the government bought them at last year.
Bankia said the demand for the shares topped €2.5 Bln, almost twice the amount on offer, with international institutional investors showing the biggest interest.
While the sale is a powerful argument for the government as it struggles to convince angry Spaniards that the cleanup of the banking system has been a success, Spain is still a long way from recouping the more than €22 Bln it injected into Bankia, a merger of 7 failed regional savings banks.
Bankia became a symbol of Spain's financial crisis after the huge losses it and other banks suffered due to a property market collapse forced the government to take €41.3 Bln in European aid to rescue its weakest lenders.
Based on the Bankia's current market capitalisation, the remaining 60.9% stake of the state in the lender is worth around €11.1 Bln.
Bankia shares were down 3.8% at €1.52 at around 1000 GMT.
Senior government sources have told Reuters the state could sell its stake in several stages this year but would keep control of the bank until its Europe-agreed restructuring is fully completed.
The economy ministry closely followed the successful sale by the British government of a 6% stake in part-nationalised Lloyds last September.
Another Lloyds share offering is set to take place in March or April, with possibly a small number of shares being offered to retail investors.
Read the timeline of the Bankia Collapse to Rescue archive by clicking the link > HERE <