Trouble flares as Spain's 'dignity marches' bring thousands to Madrid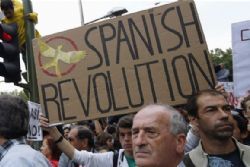 A demonstration march in Madrid ended in violence as the wide-ranging anti-government protest that drew tens of thousands to the Spanish capital.
At least 19 arrests were reported after protesters threw firecrackers, bottles and stones at riot police, who responded by charging at demonstrators and firing rubber bullets.
Dozens of people were injured including many police officers. One policeman was seriously hurt.
The trouble marred what had been a largely peaceful rally.
Dozens of causes united the protesters. Many blame the conservative government's austerity measures for deepening the economic crisis.
Earlier, the large crowd that gathered in Madrid followed so-called "Dignity Marches" from all over Spain.
People took several weeks to walk sometimes hundreds of kilometres to the capital.
Unemployment stands at 26%. The OECD says Spain's poor have been hit harder by the crisis than in any other member country.
"We're protesting over everything… education, the health system, mortgages, cuts, the new public safety law – let's not forget that, it's really important – and (also) the huge corruption we have in Spain right now," said one young demonstrator Angela Olivas, brandishing a banner denouncing corruption.
"(This protest is) to make those who govern us – or 'disgovern' us, I should say – realise that we are not idiots or sheep," added Angelino Castro, a middle-aged man who joined the rally.
The Republican flag was paraded at a time when the Spanish monarchy's popularity has nosedived.
Protesters also targeted a controversial plan to restrict access to abortion.
Earlier this month the government said Spain was now out of recession and had registered economic growth.
Recommended Reading :
* Spain advises embassies how to defend citizens security law
* Andalusia and Catalonia join opposition against abortion reform