Bankinter profit rise sets positive tone for Spain's banks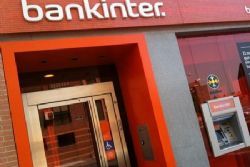 Spain's Bankinter reported a 19% rise in Q1 net profit and said bad loans were close to a peak, setting a positive tone for the rest of the country's banks which are aiming to benefit from an improving economy.
Bankinter, like bigger rivals such as Santander and BBVA, is emerging from a deep financial crisis after the Spanish real estate market collapsed.
Spain came out of recession in the second half of 2013 and the economy is forecast to grow 1% this year. But a shrinkage in credit availability and high unemployment in the country, where one in four is out of a job, remain a drag on the banks, with companies and households struggling to pay debts.
The banks have already taken hefty provisions on bad loans to cleanse soured real estate assets, which gutted their earnings in 2012 and left some short of capital.
But Bankinter - Spain's 7th largest bank by market value and one of the least exposed to the ailing property sector - said its bad loans were unlikely to grow much further.
"We're close to the peak," Gloria Ortiz, Bankinter chief financial officer, told analysts on a conference call.
Bankinter's bad loans as a percentage of total credit stood at 5.05% at the end of March, slightly more than the 4.98% registered at end-December but well under the 13.4% ratio for the industry as a whole in February.
Its net new entries of bad loans, at just over €52 mln in the quarter, were less than half what they were in Q1 of 2013.
Other Spanish banks that report results over the next two weeks, including Caixabank and Sabadell on Thursday, are also expected to show a slowdown in the pace at which debts turn sour.
But bad debt levels could also be affected by a Europe-wide banking health check this year that could push banks to recalculate how they classify some assets.
ADJUSTING REVENUES
Spanish banks are trying to adjust their revenue streams after relying heavily last year on interest from government bond holdings to boost net interest income. Many are trying to ramp up lending to small companies in a bid to boost margins. Several have already launched lending initiatives aimed at small firms.
Falling deposit costs are helping some banks turn around net interest income, a key measure of earnings on loans minus funding costs. Bankinter's net interest income was €169 mln in Q1 of 2014, 27.5% higher than a year ago and in line with analysts forecasts in a Reuters poll.
Ortiz said net interest income would grow further this year, as the cost of capturing new deposits was still falling after a price war among Spanish lenders tailed off last year.
The bank's net interest income fell compared to Q4 of 2013.
"Net interest income declined 3 percent quarter on quarter, which we attribute to a lower contribution from the sovereign bond portfolio," analysts at Espirito Santo Investment Bank said in a note to clients.
Many banks sold sovereign (government) bonds at the end of last year to clean up their books ahead of this year's health checks, being carried out before the ECB takes over as the euro zone banks' supervisor in November.
Bankinter made a net profit of €60 mln for Q1, compared to €50.4 mln in the same period a year earlier. This fell short of an average forecast for €65 mln in a Reuters poll of five analysts.
Analysts said the bottom-line miss was mostly due to a higher than expected tax rate and costs.
Revenues grew from a year ago as net lending income rose. Its Linea Directa insurance business - spun off from Direct Line, after it bought the Spanish business from Royal Bank of Scotland - provided nearly a quarter of revenues.
"The bank continues to invest in private banking and insurance which should take some of the edge off the miss," Stefan Nedialkov, an analyst at Citi, said in a note.
Bankinter's shares, which are up over 15% so far this year, were 0.7% higher at €5.81by 1110 GMT.