Spain's Finance Minister Optimistic on Growth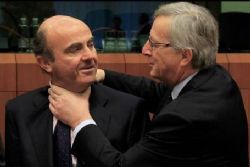 Spain's economy is likely to grow in Q2 at a similar or faster pace than in the first, the country's finance minister Luis de Guindos said Tuesday.
"At least, we will see the same growth we just [saw] in Q1... There are indications out there that give us room for optimism, but we must be cautious," Mr. De Guindos was quoted as saying by Spain's state-owned news agency EFE at an insurance industry event.
In the 1st quarter of the year, the economy grew 0.4% compared with the previous quarter- its fastest quarterly pace in 6 years, driven by stronger internal demand.
Early indicators show Spain has remained relatively strong compared with some of its European peers, such as France and Italy, which last week reported weaker than expected economic output figures, Mr. De Guindos added.
The data showed that Spain and Germany are currently the only large euro-zone economies posting somewhat healthy growth rates, he said.
"This is good news confirming that Spain is recovering," he was reported as saying by EFE.
Spain - the euro zone's 4th-largest economy - has just emerged from a slump triggered by a property bust in 2008.
In late April, the Spanish government raised its 2014 growth forecast to 1.2% from 0.7%, and to 1.8% next year from 1.2%.
Further Reading :
* EU asks Spain for further 2 years of austerity