Spain Starts to Repay EU Bank Aid as Growth Accelerates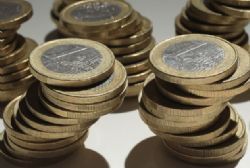 Spain will start early repayment of financial aid it received for its banks from other European Union countries in 2012, an attempt to boost confidence in the euro region's fourth-largest economy.
The government will repay €1.3 bln of the €41 bln rescue this year, Deputy PM Soraya Saenz de Santamaria told reporters today in Madrid after the cabinet approved a growth plan to support the recovery. Measures include a reduction in the Treasury's net debt issuance and an increase in funding for small and medium-sized enterprises, she said.
Spain's government forecasts 1.2% growth this year after the economy contracted 1.2% in 2013. With a quarter of the workforce still jobless, PM Mariano Rajoy plans to cut taxes next year to increase domestic demand in the run-up to the general election. Rajoy implemented the toughest austerity measures in 3 decades after taking office in 2011.
Spain's recovery is continuing in Q2 of 2014 and the country is set to complete a 4tstraight quarter of economic growth, the Bank of Spain said on May 28.
Data today showed industrial output rose the most in more than 4 years in April. Production at factories, refineries and mines, about 16% of Spain's output, increased 4.3% from a year earlier.
"The number points to continued growth momentum," Victor Echevarria, an economist at BNP Paribas SA in London, wrote in a note. "Spanish industrial production will be supported by the euro area and the domestic recovery as Spain capitalizes on the competitiveness gains it achieved in the downturn."
Under the terms of the banking bailout, a voluntary repayment needs approval by the European Stability Mechanism, the Luxembourg-based institution said in a statement.