Bank of Spain Says Growth Accelerated in Q2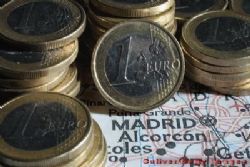 Spanish growth accelerated in Q2 as the euro region's 4th-largest economy is set to enter a second year of recovery from the deepest recession in the nation's democratic history.
GDP expanded 0.5% from Q1, when it rose 0.4%, the Madrid-based Bank of Spain said in its monthly bulletin published today. The data, which are preliminary, exceed the 0.4% median estimate of 16 economists in Bloomberg News's most recent survey on Spain. GDP rose 1.1% from a year ago, the central bank said.
The Bank of Spain typically releases its estimate before actual data are published and has consistently predicted the correct number. The official report is due on July 30.
PM Mariano Rajoy is easing efforts to cut the EU's 4th-largest budget deficit in order to boost domestic demand and reduce dependence on exports. While unemployment figures tomorrow will show that about a quarter of the workforce remains jobless, his government expects GDP to gain 1.2% this year after shrinking as much in 2013.
"Four straight quarters of growth is a recovery by any standards," said Miguel Cardoso Lecourtois, chief economist for Spain at BBVA in Madrid. "It's sustainable because it is mostly due to firms investing to increase capacity, which bodes well for industrial output."
Domestic Spending
While exports continued to support the economy in the second quarter, investment and household spending were the main growth drivers, the Bank of Spain said. Net job increases were registered from the previous 3 months for the 3rd straight quarter, it said.
Investors are flocking to the country's assets, attracted by fresh monetary stimulus from the European Central Bank at a time when the U.S. Federal Reserve is moving toward withdrawing it.
Spain's borrowing costs have fallen to 2006 levels, when the economy expanded at an annual rate of 4%, and stocks have surged, with the benchmark Ibex-35 (IBEX) index gaining 32% in the past 12 months.
The Bank of Spain said economic activity in the country is recovering faster than it expected in March, leading it to increase its growth forecast to 1.3% for 2014 from 1.2%, and to 2% for 2015 from 1.7%. Domestic demand will contribute more than previously predicted to the expansion, compensating for weaker foreign sales, it said.
Car Sales
Rebounding household spending is reflected in demand for cars. Sales jumped 24% in June, the biggest increase among Europe's 5 largest auto markets, and German carmaker Opel said this month that its market share in Spain reached its best figure since 2006 in the first half.
"Spain's productive model has changed," said Rafael Pampillon, an economy professor at IE Business School. "Its internal devaluation has made it competitive on costs."
A survey of factory purchasing managers due on Aug. 1 will signal whether the momentum in growth is holding out. The data will follow INE's preliminary inflation report for July. Spanish prices stagnated on an annual basis the prior month, placing the country at the forefront of deflation concerns in the euro area.
Prices could temporarily slow even more during the summer months, anchoring them below the euro-region average, the Bank of Spain said. Recent data confirm that the current environment of low inflation is caused by developments bound to persist, including declining labor costs per product unit, economic excess capacity and the moderating impact on consumer prices of the relatively high euro exchange rate, it said.
Recommended Reading :
* Spain marks year of recovery hooked on exports