Bringing a cheap run-around over from the UK is the easy bit - but what happens when the car reaches the end of it's useful life ?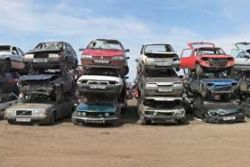 If you have a UK rhd car in Spain, after 6 months you are legally required to import it – thereby registering it as a spanish vehicle. If after 6 months you have not, then it can cause serious problems if you are ever involved in a car accident or if you are stopped for any reason by the Guardia. furthermore , sooner or later your car will come to the end of it's useful life and will need to be taken off the road or scrapped.
The easiest option is simply to part exchange an old car when you are looking to buy a new one as many dealer will then take on this responsibility, however in the real world this may not always be possible for financial or other practical purposes.
You will need to find a scrap yard or recycler as they're known now that are comfortable with scrapping rhd cars as, understandably, some are not (this is the difficult part !)
Scrapping procedure :
- Colour photocopy the uk v5 registration document.
- Detach page 2 from page 1 and take page 1 with you to the recycler.
- They should then take the car off your hands and page 1 of your v5 and issue you with a certificate of destruction.
- On page 2 that you kept the original to there is a section for scrapping, fill that in and include a copy of the certificate of destruction and send it off to the DVLA.
That's it ! - But be sure to keep all of the above paperwork on file as proof that you have done this!
Finding a recycler/scrapyard is often difficult - in Spanish they are called "desguaces" - and to find one local to yourself you may have more luck either searching on google for a scrapyard in your area, or searching the local yellow pages.
No V5 documentation ?
If you have lost your V5 document then you might be able to get away with just supplying your NIE number - but under these circumstances you might not get the certificate of destruction . If this is the case then perhaps a way around making the DVLA happy would be to fill in the permanent export section on page 2 instead of the scrapping section. Thus making the DVLA happy it's no longer a concern in the UK and the Spanish happy that it's been scrapped according to their rules & regulations.
It's important that the dvla are informed that the vehicle in question has been scrapped so it can be removed from the system and therefore you will not be responsible for any UK road tax or mot issues related to the vehicle.
If you have been lucky in getting away with supplying the scrapyard with a colour photocopy of page 1 of your v5 document then do so as it's always best to keep the original for your own files.