Mas Looking for Rajoy to Propose a Plan for Catalan Concerns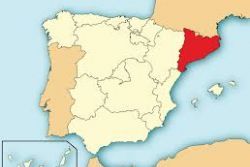 Regional President Artur Mas said he's looking for Spanish PM Mariano Rajoy to propose a plan to address Catalans' concerns they aren't getting a fair deal out of Spain.
Rajoy repeated his stance that the Catalan government's plan to hold a referendum on independence in November is illegal and won't be allowed to go ahead in a two-hour meeting with the Catalan leader today, Mas said in a televised press conference.
"I had a certain idea that beyond saying that everything is illegal there would be some kind of proposal on the table from the Spanish government," Mas said. "Let's see if the Spanish government has any ideas."
The Catalan leader has been riding a wave of popular support pushing for the breakup of Spain as his people bridle at the linguistic restrictions and spending constraints imposed by Rajoy's government. Mas put the Catalan government on course for a clash with Rajoy in December, when he set Nov. 9 as the date for the independence vote.
"There is a climate of an open dialogue," said Mas. "That in itself is good."
Catalonia, a region of 7.5 million people in the northeast corner of the Iberian peninsula, is a EU193 Bln economy, about the same size as Finland's. Output per head is 17% above the EU average, whereas in Spain as a whole it's 5% below the average.
'Space for Understanding'
"We sincerely think there is space for understanding," said BBVA's COO Angel Cano in a separate press meeting earlier today. "We expect there to be an understanding through dialogue."
While the Spanish premier is betting that his refusal to budge will outlast the clamor for a vote in Spain's biggest regional economy, the pro-independence movement is growing.
Support for secession in Catalonia is running at 45%, or 3 percentage points higher than in May, according to a Metroscopia poll for El Pais newspaper published July 19. A similar survey conducted by the Catalan regional government's pollster earlier this year shows that Catalans' support for independence has jumped 17 percentage points since Rajoy took office in 2011.
Catalonia accounts by about 20% of the Spanish economy, which has a public debt ratio that is approaching 100% of its GDP. Even so, investors are continuing to add Spanish bonds to their portfolios as ECB plans increase cash in circulation after the summer break.
Investors demand extra 1.33 percentage points to hold Spanish 10-year bonds compared with similar duration debt from Germany, according to Bloomberg data. That's a fraction of the 7.7 percentage points spread in July 2012.
Rajoy told Mas that "the political instability may put the economic recovery at risk," the premier's office said in a statement on its website. "It took a lot of work to reach the current climate of confidence."
Read the timeline of Catalonia's bid for independence by clicking the link > HERE <