Spain's bad loans ratio rises slightly to 13.2% in July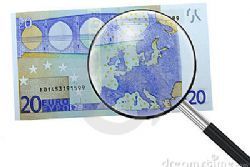 Spanish banks' bad debts as a percentage of total loans was 13.2% in July, barely changed from 13.1% a month earlier, as bad loans and overall lending fell.
Total credit in the financial system was EU1.40 trillion in July, down from EU1.42 trillion in June, data from the Bank of Spain released on Thursday showed.
Bad loans fell to EU184.5 billion in July from EU186.2 billion the month before, after hitting record highs at the start of the year.
Spanish banks forecast bad loans will peak during 2014 as the country begins to pull away from years of recession.
Recommended Reading :
* Spain's bad loans ratio slips to 13.1% in June