Spain sells EU4.5 Bln in bonds as yields drop to fresh lows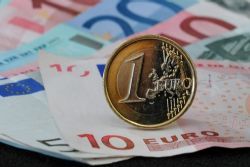 Spain sold EU4.5 Bln of debt at a triple bond sale on Thursday, hitting record low yields again, days after the European Central Bank began buying government bonds.
The Treasury hit its planned target of between EU4 - EU5 Bln at the auction.
Spain sold EU910 Mln of the shorter-dated bond, due Jan. 31 2020, which was 3.2 times subscribed compared to 1.9 times at its last auction on March 5. The 5-year bond sold for an average yield of 0.386% after hitting a low of 0.517% last month.
The 7-year bond, due Jan. 31 2022, sold for an average yield of 0.637% after 1.147% when it auctioned Jan. 15. The Treasury sold EU975 Mln of the bond, which was 2.5 times subscribed after 2.4 times in January.
The Treasury sold EU2.6 Bln of the 10-year paper, due April 30, 2025, at an average yield of 1.023%, compared to 1.616% on its last outing on Feb 19. Demand outstripped the offer by 1.7 times, compared to 2.0% last time.
Recommended Reading :
* Spain to borrow EU242 Bln in 2015 as debt reaches 100% of GDP