Spain lobbies for Gibraltar EU airport exclusion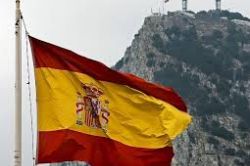 Spain has escalated its campaign for Gibraltar to be excluded from new EU aviation measures by seeking to recruit the support of Ukraine.
In December 2013 a bid by the Spanish Foreign Minister to use a veto and have Gibraltar excluded from new EU aviation measures was withdrawn at the last minute. But 2015 has seen renewed pressure from Spain at an international level to push Gibraltar out of a new wave of EU single sky measures including safety issues.
Whilst Britain has been staunch in rejecting the move as illegal and contrary to the EU treaties - a position restated this week by deputy Chief Minister Dr Joseph Garcia - Spain's secretary of state for foreign affairs Ignacio Ybáñez met on Wednesday with the Ukrainian development minister Andri Pivovarski. He sought to engage him in Spain's policy to exclude Gibraltar's airport as a means of unblocking Madrid's own objections so as to promptly allow the measures to apply to the rest of the EU and Ukraine, but not the Rock.
The gesture comes just days after Sr Margallo raised the issue in Riga during a conference of foreign ministers which was intended to focus on the crisis with Russia and Ukraine. He said to reporters there that Spain could not accept anything that would "recognise British sovereignty" over the isthmus. But he pointed to Basle like agreements between UK and Spain.
"Spain is very willing to look for a solution to this issue…a joint use of the airport by UK and Spain" he declared.
Spain meanwhile is seeking to win Ukraine's support touting commercial relations and support for development including backing for IMF and EU funds.
Sr Ybáñez reportedly reached agreement with the Ukrainian minister that they should seek a formula to unblock the aviation issue as soon as possible.
"For this reason, in a constructive spirit, Spain is defending the most reasonable solution which would be to apply the measures to all of the EU and the Ukraine, with the only exception of Gibraltar airport, whilst Spain and the UK have not reached agreement on the conditions of how that would apply [to Gibraltar]," said Sr Ybáñez.
Recommended Reading :
* Spain to close Cervantes institute branch in Gibraltar
* EU single sky deal on ice over Gibraltar