Bank of Spain expects 2.8% growth in Q1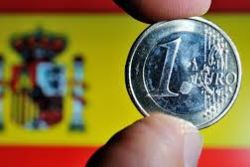 The Spanish central bank has said how the economy is improving, and is expected to grow 0.8% in Q1 2015 when compared to the same period last year.
The eurozone's 5th-largest economy is likely to grow 2.5% on an annual basis in the first quarter.
The bank also raised its forecast for economic growth this year to 2.8% from 2% previously.
In 2016, the central bank said it expects the economy to grow 2.7%. Spain's ecnomy grew 1.4% in 2014, the first year it has expanded since the country's real-estate market collapsed in 2008.
Among the reasons for Spain's unexpectedly strong economic takeoff, the Bank of Spain cited solid international demand for Spanish products amid a weaker euro and a continued slide in borrowing costs for Spain's companies, as well as developments that are largely the result of monetary policy easing by the ECB.
These factors may contribute to keeping Spain in deflationary conditions over the coming months, but the central bank said underlying inflation trends are turning positive in response to stronger consumer demand. This means that, in the absence of further energy price decreases, Spain's consumer-price index may turn positive again soon.
This should have a slightly negative effect on domestic demand, the central bank said, noting that private consumption should rise 3.3% this year and slow to 2.4% next year as price increases lead to less spending.
Recommended Reading :
* Spain's Vehicle production up 10.56% in Feb
* Spain sees new Bank launched for Expats