Spain sees new Bank launched for Expats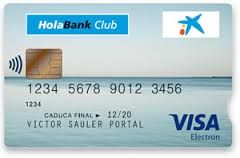 CaixaBank has today launched 'HolaBank' - aimed at Spain's foreign residents.
The new service features a network of 100 branches, staffed by specialist account managers and offering specific products and services to the expat community.
CaixaBank currently has 375,000 international customers and targets market penetration of 25% by 2020.
Juan Antonio Alcaraz, Chief Business Officer at CaixaBank, commented that HolaBank will help the bank "to cater to a group of clients with very specific needs, providing an innovative, comprehensive and high quality range of products and services".
CaixaBank's also pledges that HolaBank clients will be able to use their accounts 24/7.
This new service is aimed at non-Spaniards resident on Spain - usually of European origin - and have moved to Spain for business or leisure purposes.
HolaBank will initially include 100 branches , specifically rebranded to help with easy identification apart from their parent Bank : Malaga (16), Alicante (16), Murcia (5), the Balearic Islands (38), Las Palmas (12) and Tenerife (13), with multilingual staff and supporting documentation.
Services offered by the bank will also focus of the needs of Foreign residents, which include the so-called 'Plan Living Solutions', providing legal guidance, telephone healthcare assistance in multiple languages, as well as online translators and interpreters, free registration with utilities, personal assistance and emergency home support under special circumstances. Subscribers will also be able to benefit from discounts and promotions at restaurants and an exclusive telephone service line, available 365 days a year.
The www.holabank.es website will be available in English, German, French, Spanish and Catalan.
CaixaBank is currently Spain's foremost bank in electronic banking and a global leader in terms of innovation, with 4.7 million customers using the bank's online services each month according to ComScore. More than 2 million customers also operate using mobile devices each month. The mobile app download service has been used to make 10 million downloads.
CaixaBank's online banking share stands at 36%, the highest worldwide (comparing penetration rates for banks in their respective markets).
Recommended Reading :
* Spain's Caixabank aims for pre-crisis profit levels within 3 years
* Caixabank rolls out contactless wristbands across Spain