Spain's hotels becoming more Chinese friendly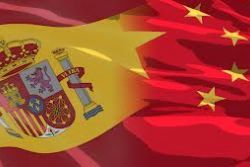 Spain's tourism season is underway. But of the 65 million tourists that visit the country, less than 300,000 will come from China. Spain wants to treble that number in the next five years and hotels and tourist hot-spots have already begun the process of becoming more Chinese friendly.
Spain attracts some 65 million tourists each year, making it the third most visited country in the world. Of that number, some 290,000 arrived from China. Although that is a 14% increase on the previous year, it fades in comparison to the 2.2 million Chinese tourists that visited France. Spain has been slow to attract China's tourists.
"The truth is that each year more Chinese tourists are coming here to Spain, but Spain still isn't the number one tourist destination for the Chinese. We have to promote it more in the Chinese market so they get to know this country better," Yuan Yu, tour guide with Chinese Friendly International, said.
But it appears Spain is now waking up to the economic possibilities. Chinese Friendly International is an organization whose endorsements are recognized in all 28 EU member states.
Spain's hotels and tourist hot spots are now rushing to get that stamp of approval.
"Mainly what you need is to learn the culture and the profile of the Chinese visitor. So you can meet their needs. Above all, this must include timetables, food, habits, hygiene, culture. It's these little details that make a hotel Chinese friendly," Sonia Fernandez, director of Chinese Friendly International, said.
For so long, it has been a paradox that Spain's legendary tourism sector that provides the country with more than 65 billion dollars has been slow to appeal to China. But that looks set to change with ten Spanish cities now having signed up to China friendly. And the country now aims to welcome some one million tourists from China by 2020.
This hotel in Madrid has recently joined China friendly. The rooms now have various guides printed in Mandarin while staff have undergone extra training. But management see it as just a starting point.
"We are translating our website into Chinese for the Chinese market. We are doing that this summer. We will be able to be in the social networks in China. Right now we depend a lot on agencies, but if we translate into Chinese we will be able to pay advertising directly into the Chinese digital market. We will really have to do it in order to keep growing and attract more business into our establishments," Sandra Serrano with Jardin Metropolitano said.
Spain may have been slow to the potential of appealing to new tourism markets. But the country is looking to make up on lost ground and fast.
Recommended Reading :
* Spain tops league of most tourist friendly countries
* China advises tourists how to behave in Spain