Mosquito Virus Detected In Spain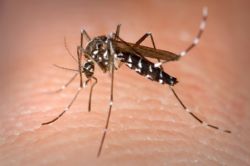 The European Centre for Disease Control (ECDC) has published a rapid risk assessment placing Spain on alert after a 60 year old man contracted the Chikungunya Virus transmitted by mosquitoes despite never travelling to an affected area.
In a statement released by the ECDC, the man "developed symptoms on July 7th while travelling in France".
"He had no history of travel outside the EU during the last three months and was most likely infected in the city of Gandía, Valencia community in Spain" the statement read.
The virus is carried by the Tiger and yellow fever Aedes aegypti mosquitoes, but is rarely fatal in humans and the risk subsides significantly if detected and treated.
Common symptoms of the Chikungunya Virus are fever and joint pain, but may also include headache, rash, muscle pain and joint swelling, all symptoms which resemble dengue fever and leaves those affected with debilitating joint pain for several years.
In recent years Spain has seen an invasion of the Tiger mosquito and official figures suggest the trend will continue with increasingly mild winters and year on year record breaking summer temperatures.
With mosquito populations rapidly rising, there is much you can do to defend yourself and family.
Mosquitoes usually lay their eggs in stagnant pools of water or moist environments such as damp soil and/or sand. After rainfall, tip out any pools of water collected on furniture, children's toys and/or other outside items.
Any drains should be regularly flushed and rain water collection tanks should be covered with a fine mesh or netting.
Mosquitoes will even lay their eggs in the soil of plant pots, especially those around your windows and balconies.
After watering plants, drain or tip away any pools of water collected at the bottom of plant pots, cover where possible any recently watered soil and regularly rake damp soil and sand to expose it to sunlight.
In the home, use mosquito repellents and click here to see a video on a simple and effective carbon dioxide mosquito trap . Female mosquitos need a blood meal just before laying their eggs and sense the carbon dioxide given off by humans and animals, which is when they bite.
Other tips include very cool or very well ventilated rooms with fast moving air from fans which will inhibit the mosquito's ability to fly. Cover open windows with fly screens and limit the amount of direct light to the outdoors during the evening. Light at night attracts mosqitos inside your home.
Regularly wash, dry and treat your pets as they too will be mosquito targets. If in any doubt, speak to your local vet who will advise the best course of action to take.
Any pools of stagnant water in your area must be reported to your local town hall who should act to prevent them becoming mosquito pits.
Whilst no state of emergency has yet been declared, the public are advised to take precautions to defend themselves against the invasive Tiger mosquito and other species active at this time of year.
Recommended Reading :
* Spain reports first case of Middle-East virus