Guardia raids ruling Catalan party over illegal commissions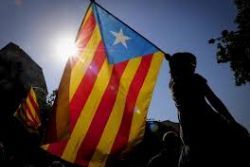 The Civil Guard has begun an operation in Catalonia to investigate the alleged payment of illegal three-percent commissions by a construction firm to the regionally ruling Democratic Convergence (CDC) party.
Just after 1pm on Friday, officers from Tarragona, Barcelona and Madrid entered CDC headquarters to search the office of party treasurer Andreu Viloca. Their action followed that morning's searches of the offices of the Catalanist and Democrat Foundation (CatDem), which is affiliated to regional premier Artur Mas's CDC, and of four Catalan town halls that presumably awarded contracts in exchange for commissions from construction company Teyco.
The Anticorruption Attorney's Office has collected solid proof about the payment of commissions in Catalonia. One month ago investigators discovered documents reflecting such payments in a search of Teyco's offices. The company is owned by the Sumarrocas, a family traditionally linked to CDC.
As well as CatDem headquarters the Civil Guard also searched local government offices in Sant Cugat, Figueres, Sant Celoni and Lloret de Mar, which were all under CDC control at the time of the alleged payments, to corroborate their evidence, investigation sources said.
The investigators were looking for evidence of multimillion-euro contracts awarded to Teyco. The majority were handed out in 2009, though the practice continued until 2011. The payments to CatDem continued up until last year.
The CEO of Teyco, Jordi Sumarroca, is the son of CDC founder Carles Sumarroca Coixet, himself a close friend of former Catalan premier Jordi Pujol.
Pujol, who ruled the region from 1980 to 2003, resigned all his honorary positions a year ago after confessing that he kept an undeclared fortune in tax havens for 34 years.
Several of his children are also under investigation for accepting bribes to help companies secure public contracts while their father was in power.
Recommended Reading :
* Catalan Citizenship offer enrages authorities in Valencia and Aragon
* Separatist says independent Catalonia would leave EU temporarily