Catalan citizenship offer enrages authorities in Valencia and Aragon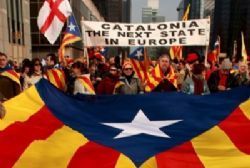 A suggestion by a Catalonia government official that the region could offer Catalan citizenship to residents of Valencia, the Balearics, parts of Aragon and parts of southern France if it becomes independent has been met with widespread indignation.
Javier Lambán and Ximo Puig, the regional heads of Aragon and Valencia, called the proposal to extend Catalan citizenship to all residents of the area nationalists regard as the Paďsos catalans (Catalan countries), because of historical ties, "intolerable" and "senseless."
"It's an intolerable lack of respect," said Lambán about the statements made on Saturday by Catalonia regional justice chief Germŕ Gordó. "It is a clumsy and irresponsible opinion that not only violates basic legal norms, but also toys with the dignity of an entire region and the feelings of its people, in a display of identity-based arrogance – if you can call it that – with highly disturbing historical overtones."
Puig, the premier of the Valencia region – where a form of Catalan is spoken – called the idea "absurd, senseless, untimely and very irresponsible."
Meanwhile, the main Spanish parties, including the Popular Party (PP), the Socialists and Ciudadanos, demanded a correction from Catalan leader Artur Mas, who has been championing the independence drive ever since he took office in late 2010.
The head of the Catalan Socialist Party (PSC), Miquel Iceta, said that Gordó's attitude seemed to be "we'll go ahead and give them a Catalan ID card if they want it," adding that this was a terrible way to maintain a working relationship with these other regions.
Gordó made his controversial statements on Saturday during an address to students on summer university courses in the French town of Prada de Conflent.
"The construction of a state must not let us forget the entire nation," he said, specifying that this greater Catalonia included "North Catalonia [the French areas of Roussillon and Haute-Cerdagne], the Valencian Country, the Strip [the border area with Aragón] and the Balearic Islands."
While no other member of the Catalan government has publicly chided Gordó for his comments, nobody has stepped up to support him, either.
On September 27, Catalonia will hold legislative elections that Mas is casting as a plebiscite on independence. If his secessionist bloc, Junts pel sí, wins an absolute majority, he would take it as a legitimate mandate to move towards independence.
Madrid and Barcelona have been locked in an escalating battle over the secessionist drive. The PP government of PM Mariano Rajoy filed charges against Mas and two aides after Catalonia held an informal independence referendum in November of last year.
Meanwhile, disagreement over the need for independence has caused a rift in Catalan politics and the breakup of Convergčncia I Unió (CiU), the coalition that had ruled the region almost uninterruptedly for 37 years.
Recommended Reading :
* Rajoy : "There will be no Catalan independence"
* Catalan Nationalists plan to leave Spain by 2017