Catholic Church wants jail for protestors who interrupted Mass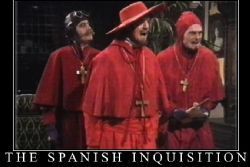 Mallorca's bishops want six youths who interrupted Mass at a Catholic church on the island in February 2014 to serve four years each in prison.
The youngsters are being accused by the Church of offending religious sentiment after they rushed into the place of worship in Palma de Mallorca to protest the abortion reform then being contemplated by the Popular Party (PP) administration.
The government wanted to eliminate abortion on demand and take Spain back to a case-based system, although the reform was ultimately scrapped after widespread opposition.
Prosecutors are asking for lower prison sentences of a year-and-a-half for each defendant. The six are due to stand trial at the Palma Provincial Court after the investigation ended this week.
The incident took place on February 9, 2014, during a Sunday Mass at the church of Sant Miquel. Around 30 youths entered the premises holding signs and yelling slogans such as "free abortion."
The activists were expelled by churchgoers, and later arrested by the National Police.
In a press release, the accused defined their action as "a legitimate exercise in freedom of expression."
They further argued that "publicly denouncing through this type of action one's lack of support for a policy that was drafted without consulting citizens" does not constitute a crime.
In their view, their own actions were instrumental in getting the government to shelve its abortion reform, at least in its original drafting.
Sources close to Mallorca's bishopric said church officials remained open to an agreement as long as the youths admitted their mistake and apologized. They also noted that the Church was not seeking the maximum prison sentence set down in law for these types of offenses, which is six years.
Recommended Reading :
* Rajoy backs down on Spain's abotion reform
* Spain drops charges in Priest child sex abuse case