Spain's 'Anti-Terror' hotline hailed a success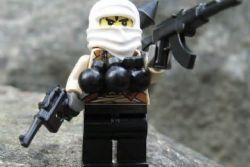 The Spanish government launched Stop Radicalism on Friday in a move that Interior Minister Jorge Fernández Díaz said would "involve the whole of society in the fight against brutality".
Members of the public who suspect friends or neighbours of holding jihadi sympathies can anonymously report them to the campaign, either by phone, internet or mobile app.
Mr Díaz confirmed that the hotline received a "multitude" of reports on its first day, and security services were following up 29 suspected cases that were analysed and deemed "especially sensitive".
"You can trust in the Spanish security services in the fight against terrorism because they are especially effective and professional," Mr Díaz claimed.
El Mundo reports that since June, Spain's terror threat level has been at level 4, meaning there is an "elevated" risk of an attack.
"No country, including Spain, is exempt from the threat of jihadi terrorism," Mr Díaz added. "We are not facing a war of religions, but of barbarians against civilisation."
Since the last election four years ago, Spain has detained 172 terror suspects, with 98 arrested this year alone.
Last month, Spanish police arrested three people in Madrid on suspicion of preparing to carry out Islamic State terror attacks. The following day, they arrested another two men of Moroccan origin for allegedly recruiting militants for Islamic State and spreading jihadi propaganda.
In 2004, an Islamist attack in Madrid left 191 dead and 1,885 wounded in a series of coordinated bombings on the city's rail network. The attack, which focussed on the main station of Atocha, was one of the deadliest ever terror incidents on European soil.
Spain has also been fighting the Basque nationalist terror group ETA for the past five decades. The group killed over 800 people in its violent campaign for independence for the Basque Country, but in 2011 announced a permanent ceasefire.
Recommended Reading :
* Thousands rally in anti-war and terror protest in Spain
* Spain fears Jihadists may enter country alongside asylum seekers