Activists to Take Spain to ECHR Over 'Gag Law'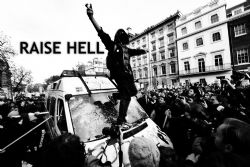 A group of layers and journalists are taking Spain to the European Court of Human Rights (ECHR) over the country's controversial "gag law," which activists say is an attack on freedom of speech and information rights.
The coalition of activists, known as 'Defender a quien defiende' (DqD) launched a triple lawsuit with the ECHR, calling for the immediate repeal of the law.
The highly controversial Citizen Security Law, dubbed the 'gag law' by critics, was passed by the governing Popular Party (PP) earlier this year and came into action in July, despite widespread protests and demonstrations.
DqD has labeled the law "authoritarian," with critics arguing that it restricts the right to legitimate protest and allows authorities to harshly crack down on any form of anti-government demonstration.
Under the law, the vague description of "disrespecting a police officer" can attract a fine of US$662 (€600), while those guilty of staging an "unauthorized protest" can be hit with financial penalties as high as €600,000.
Many photojournalists have taken aim at the law, which also makes it illegal to photograph a police officer, with many arguing that it severely affects their ability to do their job.
DqD argues that such provisions "violate" basic freedoms, expressions and the right to protest, in turn restricting journalists and photojournalists from subsequently sharing certain pieces of information with the public.
"They are particularly affected since the law jeopardizes their main function: to report on events of public relevance," the lawsuit states.
Photojournalists are "obliged by police to stop filming or photographing police actions for fear of being penalized," the lawsuit says, amid fears that it may allow instances of police misconduct to go undocumented and unreported.
The law has already attracted controversy since it came into effect in July after a man was fined €600 for calling police "slackers" on social media.
In another controversial instance a woman was fined €800 for taking a photo of a police car parked illegally in a disabled zone, however the fine was later scrapped.
The timing of the ECHR lawsuit, which is to be officially launched with a press conference on Tuesday, comes at a critical time for the ruling controversial Popular Party (PP) ahead of the country's December 20 election.
All three major opposition parties have vowed to scrap the highly unpopular law if they win power, with some analysts saying the controversy around the matter could influence swing voters who remain undecided on who to vote for in the national election.
Recommended Reading :
* Madrid tries to pass off responsibility for collecting fines from gag law
* 5 Things Spain's gag law will stop you doing from today