Debt and reforms top investor concerns as Spain goes to the polls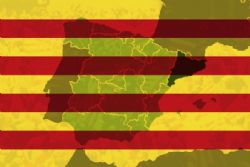 Spain may no longer be in economic or financial crisis but record public debt and the ability - and willingness - of the incoming government to pursue "structural reforms" are reasons for investors to be cautious ahead of Sunday's general election.
Polls point to the country's first coalition government since becoming a democracy 40 years ago, which could slow and dilute the policy-making process even if market-friendly conservative PM Mariano Rajoy is returned for a second term.
The vote comes just weeks after a Socialist government won power in neighboring Portugal, toppling a short-lived center-right government with the support of the far left and turning what first appeared as an Oct. 4 election defeat into victory.
Spanish markets are relatively calm ahead of the vote.
Stocks may have underperformed their European peers this year and bond yields and spreads have risen in recent months, but these moves have been in the slipstream of broader market moves led by global drivers like U.S. and euro zone monetary policy and the twists and turns of China's economy and policy.
Spanish yields are still near record lows and the premium investors demand for holding Spanish bonds over German debt is also low - much of that is down to the crisis-averting actions of the European Central Bank.
Investors say the key issue for the new government, whatever its make-up, is the state of Madrid's fragile finances.
"Long-term debt sustainability remains a serious concern," Societe Generale analysts wrote in a note this week.
"Given the limited fiscal space, there is a real risk that debt could be pushed well above its already high level of 100% of GDP. Any external shock could push debt much higher, above 130%."
Public debt to GDP ratio across the 19-nation euro zone bloc is currently 92.5%.
Spain's net public debt is the highest it has ever been. Standard & Poor's upgraded Spain's rating in October but warned that even tighter fiscal policy will be required to keep that from rising and to further reduce the budget deficit from just under 6 percent currently.
The rating agency also cut the debt rating of Spain's northeastern region of Catalonia, citing political tensions as Catalan separatists push for independence form Madrid. PM Rajoy has repeatedly vowed Spain will not break up.
FOLLOWING IRELAND ?
The ruling People's Party leads the polls but looks set to fall short of a majority, leaving the door open to potential pacts. The main opposition Socialists (PSOE) and two newcomers, liberal Ciudadanos and left-wing Podemos, are close behind.
Francois Savary, chief investment officer at investment firm Prime Partners, summed up the view of many investors, saying his preferred outcome would be for the PP to win outright or to form a coalition with Ciudadanos to thwart the left-wing and anti-austerity party Podemos.
"If Rajoy gets 30 percent, I could consider buying up Spanish equities and bonds, as Rajoy has done well in terms of reforming the economy," Savary said.
Rajoy won a convincing victory at the last election in November 2011, inflicting on the PSOE the worst defeat for a sitting government since 1982.
Then, the country was gripped by recession, stocks had just had their worst quarter in almost a decade and bond yields and spreads over benchmark Germany were the highest since the euro's launch. The banking system was creaking and there were real fears that Spain could crash out of the euro.
The backdrop to Sunday's election is less fraught. The economy is recovering, unemployment is falling and financial market conditions, by some measures at least, are the healthiest they've ever been.
Nobel Prize-winning economist Paul Krugman points to the collapse in wages in Spain relative to Germany and the easing off of fiscal tightening over the last couple of years as the two main drivers of Spain's recovery.
But while the economy has grown every one of the last nine quarters, economists argue that further reforms such as reducing public spending and making labor markets more flexible are needed to keep the recovery on track.
Structurally, the long-term growth outlook remains sluggish. Economists at SocGen reckon Spain's potential growth level is around 1% absent further reforms.
"The policies of the next government could determine whether Spain's growth prospects move closer to Ireland's or stay closer to its Southern neighbors'," Barclays economists Apolline Menut and Antonio Garcia Pascual said in a note on Tuesday.
Another once-troubled euro zone "peripheral" country, Ireland's annual growth in Q3 reached 7%.
Greece, Italy and Portugal, however, continue to struggle. Greece came close to crashing out of the euro earlier this year and has only just emerged from recession, Italy's economy is stagnating and political crisis is bubbling just under the surface in Portugal.
Spain's economy is still around 5% smaller than it was in 2007, unemployment is over 20 percent and youth unemployment is almost 50%. The scars of a lost decade, indeed a lost generation, will be deep.
Analysts at Deutsche Bank are optimistic, however, predicting growth of 2.7% next year, well above the euro zone average.
Recommended Reading :
* In Spain small town is laboratory for new era of compromise politics
* A Guiri's guide to the Spanish election