Spain to consider switch to GMT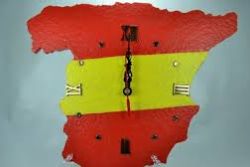 Spain is reportedly considering switching to Greenwich Mean Time, bringing them into the same time zone as the UK.
The change could form part of Spain's long-running negotiations to form a new government.
The Spanish election in December left no clear winner and none of the parties have been yet able to come together to form a coalition to govern the country.
However, this week the leader of the party named Ciudadanos agreed to support the Socialists with a number of conditions, with one such condition being that Spain switches to GMT.
Spain has the same longitude as the UK, but changed to the same time as Central Europe in 1942 as a move by General Franco to tie in with Nazi Germany.
Since then many in the country have complained about the time zone they are in, saying it left them out of step with the natural sun rise and set and that it has left the country in a permanent state of semi jet lag. Similarly, the difference affects the working day.
A report in 2013 recommended that the country move to GMT, and now that this is supported by Ciudadanos it looks like this change may finally take place.
Recommended Reading :
* Ciudadanos seek meeting with PP to request abstention in PM vote
* Ciudadanos and PSOE sign deal hoping to win cross-party support