Resort of Torrevieja once again named Spainís poorest town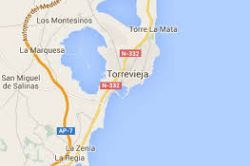 The leafy Madrid dormitory town of Pozuelo is Spainís richest town, while Torrevieja, a run-down resort on the coast of Alicante province, remains the poorest, according to the latest municipal wealth and inequality survey published by the National Statistics Institute (INE).
The study covers 109 Spanish municipalities throughout Spain, and shows that at Ä70,298, annual household income in Pozuelo, around 15 kilometers to the northwest of the capital, is five times that of Torreviejaís Ä13,977.
Pozuelo is dotted with exclusive gated communities that are home to soccer players and other celebrities. Torrevieja has a significant number of retirees living all year round, many of them from the UK and Germany, and its economy is largely dependent on the summer season.
In general, the north of Madrid is home to the capitalís wealthiest inhabitants: in Majadahonda, the countryís second-wealthiest town, annual household income is around Ä56,000. Four more of Spainís 10 richest municipalities are also to be found around the capital: Alcobendas, Las Rozas, San SebastiŠn de los Reyes, and the city center itself.
Unsurprisingly, the survey reveals a close link between household income and joblessness, a relationship particularly evident in Andalusia where many of the poorest municipalities in Spain are located: Sanlķcar de Barrameda (42.3% unemployment), La LŪnea de la Concepciůn (40.1%), and Jerez (39.4%). Unemployment in Pozuelo is nine percent, while its similarly wealthy neighbors have comparable levels of joblessness.
The survey also provides insight into the gap between rich and poor within Spainís major cities: data from 2012 puts average annual household income in the capitalís two wealthiest neighborhoods, El Viso and La Piovera, in the northern area of Madrid, above Ä100,000. Barcelonaís Pedralbes comes in third at Ä92,755. The poorest neighborhoods in Spain are to be found in the south of Seville: PolŪgono Sur, Los PŠjaros and Amate, where average income is little over Ä12,000 a year.
The INE survey is part of the European Unionís Urban Adult project, which measures living conditions in cities throughout the EU.
Recommended Reading :
* Spaniards among biggest supporters of development aid in the EU
* The 20 richest Spaniards hold as much wealth as the poorest 30% : Oxfam