Benidorm bans giant sandcastles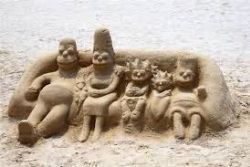 There are plenty of buildings that the concrete-heavy resort of Benidorm probably do without.
Not many would have listed the town's sandcastles among them, however. But now the intricate sand sculptures beloved of tourists and locals alike are under threat after Benidorm's town council voted to outlaw them. Giant castles have been wowing tourists along Benidorm's Levante beach for years but they have come under attack by the resort's council, led by Spain's conservative Popular Party.
The banning order measure was passed on Monday in with the support of the centrist Ciudadanos party. The sculptures, built by artists who accept tips for their work from tourists, have in the past ranged from giant castles and dragons to life-size scenes depicting the last supper and even cartoon family, the Simpsons. "Until last year, Benidorm town hall offered five areas of Levante beach, available to rent by artists who made giant sand sculptures," a town hall spokesman told the press.
"However, given problems such as subcontracting, dirtiness and inappropriate images, we have decided to keep the areas as free space available to all beach users." Tourists can still build sandcastles Tourists can breathe a sigh of relief, however, as the measures will not prevent them from enjoying using their bucket and spade.
"Of course this measure won't affect the little sand castles that tourists make," the spokesman for Benidorm town hall confirmed. The number of sand sculptures has been dwindling since summer 2015, when the council began revoking the permits of artists who worked along the beach.
But far from being seen as an eyesore, the sculptures have attracted many fans among the millions of British tourists who holiday in the Costa Blanca resort. "Our two children love finding the sand sculptures, they think they're amazing," Caroline from Leeds wrote on holiday review website TripAdvisor. "They have been in Benidorm for years so shame if they go for good," another holidaymaker wrote.
But the town's artists might not be banished from the sand forever; the council has proposed an international sand sculpture competition that councillors hope will attract artists from all over the world.
Recommended Reading :
* Shark attack closes Costa Blanca beach